Dear Parents, Teachers and Students,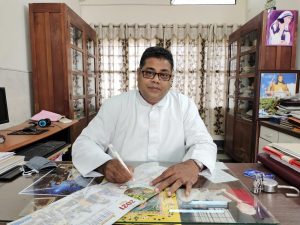 The Indian Philosopher and educationalist Jiddu Krishnamurthi used to say "The purpose of education isn't to produce mere scholars, technicians and job hunters, but integrated men and women who are free of fear; for only between such human beings can there be enduring peace". The education should strengthen ones mind so that one can more easily learn to deal with specific challenges he or she will face throughout one's life. The present system of education is preparing people for jobs and not for life. No one has yet realized the wealth of sympathy, the kindness and generosity hidden in the soul of a child. The effort of every true education should be to unlock that treasure.
To help the children to become honest citizens and good human beings is the sole purpose of Don Bosco's system of Education. This system which is in use in our Don Bosco schools is called the Preventive System, which consists essentially in disposing the pupils to obey not from fear or compulsion, but from persuasion. In this system all force must be excluded, and in its place charity must be the mainspring of action. Because of this it excludes every violent punishment, and tries to do without even mild punishments. This system is all based on reason, God and loving-kindness.
The aim of our school is to provide modern & progressive education to achieve all round, balanced and harmonious growth of children. Thus the school objective is to make the students true citizens of modern progressive world in the new millennium ready to meet the challenges in each & every field of life. We do everything possible to achieve this goal. The centre of our educational system is the child himself. The child is provided with good ambience, qualified teachers, necessary equipment for learning and above all an atmosphere of a family where the child finds it easy to approach the teachers and finds himself in safe hands of the management and teachers. May all of you find what you search for in Don Bosco.
Fr. Garlapati Kishore Raju
Rector and Correspondent
Don Bosco School