Posted on November 14, 2022December 1, 2022 by admindbs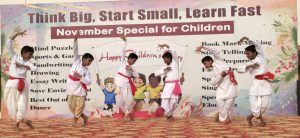 Don Bosco School celebrated the children's day on 12.11.22 with completely different Vibe. The day celebrated on the theme: THINK BIG, START SMALL, LEARN FAST. The school stage, and ground was colourfully decorated, and it was very apt to the celebration. The programme started at 8:30 a.m. The Masters of Ceremony Stella and Madhu began with the wonderful introduction and cheer ups. The programme included a variety of cultural items like: folk, western dance, Kuchipudi and singing. The highlight of the day was dance and song performance by the school staff, which was much appreciated by the students.
Later, inspiring messages were given by Fr. Bhaskar, the Rector and Principal and Fr. James, administrator, which focused on soul significance of children's day.
During the programme Fr. Bhaskar, the Principal awarded the winners who won the prize in various competitions which were conducted in view of Children's day.
Mrs. Dhanalaxmi expressed the words of gratitude to all who have been the part of Children's day celebrations.