Posted on September 5, 2022September 16, 2022 by admindbs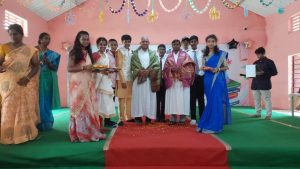 Don Bosco school CBSE, Gunadala Celebrated the Teachers' day on 05.09.22 on the theme: "Education is the soul of the Society, Guru is the Guardian of the Soul" There is no doubt that being a teacher is a noble profession that deserves an equal amount of love and respect as any other profession.
The students of Don Bosco from 9th grade have organised an event very decently by decorating the auditorium on the occasion of this teachers' day with the support of the management.
Teacher's day is commemorated to remember the Birth anniversary of Dr. Sarvepalli Radhakrishnan our former President of India. The Event was held at the school auditorium the programme started with our school prayer later the cultural program unfolded with dance performance by 9th girls invoking about Guru.
Our 9th class students felicitated the Principal and Rector Fr. Bhaskar and Administrator Fr. James.  Principal Fr. Bhaskar presided over the occasion he highlighted the significance of the day and immeasurable contribution of the teachers in the society as the nation builders.
The students honoured the teachers With the Traditional Rituals Later the teaching and the non-teaching staff were felicitated with shawls by students and a token of appreciation By Principal Fr. Bhaskar.
 There was a speech given by a 9th grade student. Don Bosco student sang a song praising the teachers with their mesmerising tune and words. Senior students took on the responsibility of teaching as a gratitude to our teachers.
The program ended with the vote of thanks by 9th grade children.