Posted on April 7, 2020April 14, 2020 by admindbs
Don Bosco School, Gunadala, 7 April 2020: The Salesians at Don Bosco School helped 100 families with Provisions with the permission from chief medical officer of the Vijayawada Corporation. The staff did the survey to find out the neediest people of the area around Gunadala.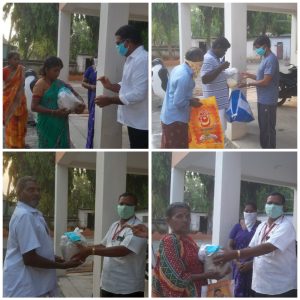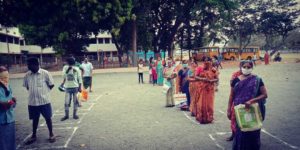 The management gave them tokens to collect the provisions from the campus different timings from 6.30 am to 8.30 am in order that there may not be big numbers gathering to maintain social distancing on two consecutive days i.e., 7th and 8th April 2020. Similarly, on the request of the authorities Management lent the playgrounds for the municipal corporation to set up a Rythu Bazaar to sell Vegetables for the people of the locality and a room to set up a ration shop. This is a giant step to fight Covid-19 and prevent the perilous Virus.