Posted on June 5, 2021June 10, 2021 by admindbs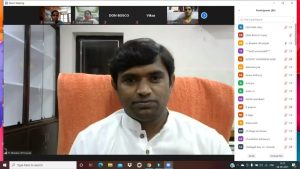 The meeting has begun with the opening prayer by Fr. Bhaskar and has discussed the following agenda in the meeting:
Methods of teaching
Subject handling
Use of Creativity
Online assembly
Online exams
Online Seminars
The Principal encouraged teachers to teach online classes with activity based and picturised learning for children.  He said that, online classes in order to be more effective, teaching to be done very slowly, systematically using little talking.
He also said that, to use different methodologies for different subjects, not to repeat the same pattern of teaching every day. The Principal encouraged the teachers to make use of the ideas gained from different seminars attend during summer vocation for teaching.
In concluding principal wish all the staff all success and fruitful year ahead. The meeting ended at 12.50pm.